The Cawwot does not evolve too much with Dofus 2.65. In addition to an addition of the "Saviour" suffix, she especially gains a variant, the Cawwot common spell "Chawnue", giving shield points to her attackers!
DOFUS: Guide to obtaining the Cawwot Savouweuse and Cawwot Chawnue common spells
Savory Cawwot summons an obstacle and a glyph that heals all entities by a few % of their hit points. Its variant, Chawnue, offers a summon with less Vitality but which gives shield points for each line of damage it suffers. Be careful, for both, both allies and enemies can take advantage of it.
Either way, both variants are useful in both PvP and PvM, regardless of your class. They effectively block line of sight, provide healing in quest fights, and can be used as a pivot to detach. The editorial team strongly recommends obtaining them, from the lowest levels, provided you have the kamas.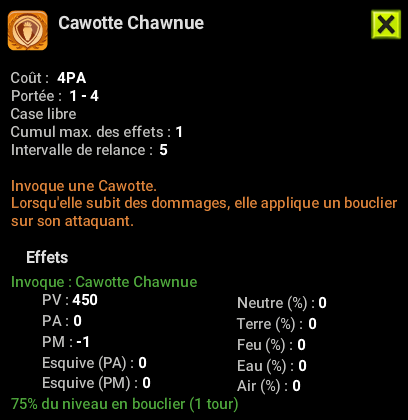 To obtain these common spells, you will have to go to Wabbit Island with 100 Cawwots. On the way to the Wa Wabbit path, stop at [23,-9] and enter the house on the left.
Continuing on your way, you will come across a dark room. Your objective will be the room on the left. To do this, activate the grid and walk square by square towards the door, following the image below. A high priest will be waiting for you in his lair. In exchange for your cawwots, he will teach you how to summon them.
If you're lucky, a Cawwot scroll can also be found in Christmas gifts or in sales hotels. The Chawnue unlocks automatically at level 87, as a variant.
---